WHAT IS DIAGNOSTIC HYSTEROSCOPY
Procedure ( outdoor / indoor ) where a small telescope is used to look inside the uterus. A thin hysteroscope 2.9 – 4 mm is introduced into the uterus via cervix .The uterine cavity is distended using fluid like normal saline .The camera is attached to the hysteroscope and it sends image to the monitor for viewing.
WHAT IS OPERATIVE HYSTEROSCOPY
It is used to a treat an abnormality detected during diagnostic hysteroscopy like , removing a polyp , cut a septum , remove a missing copperT , releasing adhesions in the uterine cavity etc. through a thin and long instrument introduced through the channel in the hysteroscope while watching the image on the monitor.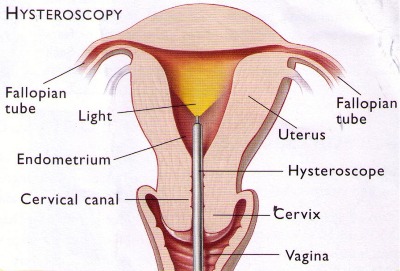 HOW IS HYSTEROSCOPY DONE
A fine telescope ( 3-5 mm diameter ) called hysteroscope is passed through vagina and cervix ( mouth of the womb ) into the uterus.Saline water is introduced to open the uterus and watch the inside of uterus on a monitor.
WHEN IS HYSTEROSCOPY NEEDED ?
1. To investigate/treat abnormal vaginal bleeding in absence of hormonal imbalance , may be associated with abnormal ultrasound findings like thickened endometrium ,polyp .
2. Multiload / copper T seen on ultraound but missing thread .
3. Post menopausal bleeding to look for any lesion suspicious of cancer /polyp.
4. Absent periods even after hormone therapy to look /treat adhesions in uterus
5. Assess size and shape of uterus in case of repeated abortions / before IVF .
6. Failed HSG / Dilatation and Curettage .Dilatation of cervical canal under vision.
7. Release of uterine septum ,diagnosed on HSG or 3D ultrasound.
PREPARATION BEFORE HYSTEROSCOPY
1. Usually done postmenstrual , to confirm nonpregnant status.
2. Treat vaginal infection before procedure, preferably pap smear .
3. Empty stomach if need for anaesthesia.