Srijan Clinic (Best Gynecologist Clinic in Noida)
Dr. Shweta Mathur is a consultant Obstetrician and Gynecologist practicing in NOIDA for more than 18 years. She graduated from the prestigious Lady Hardinge Medical College in Delhi and has completed her post graduation from Safdarjung Hospital and has undertaken training in endoscopy from AIIMS, New Delhi. Dr Shweta completed her postgraduate in Sonography from institute of Ultrasound Training, Delhi. She has also worked in ESI hospital as Senior Registrar for three years. She is a senior consultant gynecologist and Visiting consultant at Kailash Hospital Sec 27, Apollo Hospital Sec 26, Cloud 9 Hospital sector 51, Motherhood sector 48, and Motherland sec 119, Noida.
Currently in Srijan Clinic (residence cum clinic) with in-house ultrasound facility at sector 51, Noida located at C 85, behind Kendriya Vihar. She is experienced in handling all types of difficult deliveries, cesarean section, medical termination of pregnancy, management of ovarian cyst, hysterectomy (removal of uterus) etc. She is also experienced in laparoscopy (key hole surgery) and hysteroscopy.
People recommend Dr Shweta Mathur as best gynecologist in noida .

Doctor's View
welcome there!
After finishing my post graduation and senior residency I realized that half the problems in women are due to lack of awareness and social myths. It moved me for special intestest in awareness generation among women. I am very actively conducting awareness programme for working women and girls in Noida with the sole aim to reduce the suffering of our sisters and children. It is my endeavour that most of the simple problems should not happen on the first go.
Over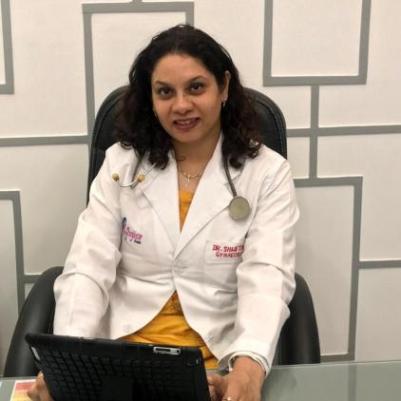 Dr. Shweta Mathur
M.B.B.S. (LHMC)
Book an Appointment today!
Scan QR Code

to download Docon Patient app Enter your mobile no. to register Search for Shweta Mathur or doc30707 Select a convenient time slot / Confirm your appointment
Fertility Services
How we help
Happy Families About Us
Testimonials
My experience with Shweta mam was very good. She always guided me at each n every step whenever i felt low during my pregnancy and even after post pregnancy. I like most about her clinic, the classes given at regular intervals about diet, exercises, post pregnancy activities etc. which helps a lot. I would like to recommend her to my near n dear ones who r expecting babies.
I had been consulting Dr Shweta Mathur since last 3 years and had recommended her to my several friends. She takes personnel interest in of her patients and her advise has always found to be very effective, useful and accurate. She is committed the medical profession and has been active in the social awareness programs in the areas.
I want to emphatically state that i am impressed by the medical treatment given by dr.shweta mathur. She treats her patients like a good friend and a guide. I shall not hesitate to recommend her name to others anywhere anytime. Thank you so much for ur gr8 skill and compassion in dealing with me. God bless you
Articles About Parenting
Our blog feed
For Appointment
Mobile: 0120-4571932 /+91 8130308551
(During Clinic Time)
Whats app: +91 9873134443